5 social media marketing tips for your next cannabis event
There's no doubt that sponsoring an event is a powerful way to get your organization's name in front of an attentive audience. But that kind of exposure doesn't come cheap.
How do you maximize your ROI? Have a showstopper of a booth on the floor? Of course. Bring your best speaker with their sharpest insights to the event stage? You bet.
Now it's time to take the next step: An effective live event social media strategy can amplify the impact of those efforts, build greater awareness for your brand and drive leads to your business.
Of course, you're not the only one who's thought of this. So, how do you stand out to an audience following along on a busy hashtag? We have ideas.
Here are our five easy tips to give you a running start:
1. Extend your timelines
In the weeks — and sometimes even months — leading up to an event, the surrounding conversation on social media will already be well underway. By starting your social media strategy early, you have the chance to reach the audience following the event hashtag in a less crowded playing field, well before the "come visit us at booth 322" posts start flying left right and centre.
Looking at the #MJBizCon hashtag, we can see that activity begins at the start of November, a full month before the event doors opened on December 11, with a total of 3.7K mentions in this time period. During this pre-event time frame, active accounts such as @HIGH_TIMES_Mag, @NORML, @cheddar, @IBDinvestors, and @janewells were seeing some of the highest reach.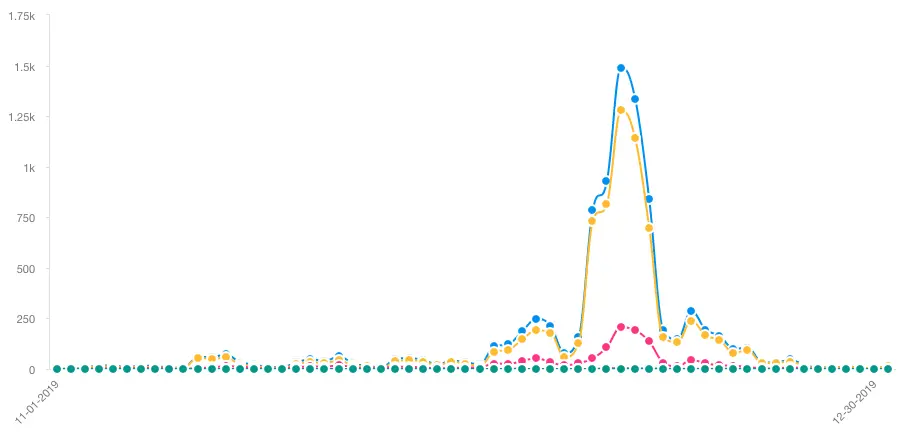 By regularly posting interesting content with the #MJBizCon hashtag, these accounts are getting their brand in front of this engaged and relevant audience. If you share their content, you'll likely earn a retweet or two, giving you access to their audience.
And once the event is over, that doesn't mean you need to stop posting either. There's still an audience looking for valuable takeaways from the days after the event.
Key Takeaway: Post content to the event hashtag regularly at least a month before and two weeks after the event to get extra reach and awareness for your brand.
2. Bring value to the conversation
Don't act like a bullhorn. Only telling the audience that you've arrived, sharing a picture of your booth, and announcing that your speaker is hitting the stage is not the way to stand out.
While this can be important information for those who are attending the event, it ignores the audience following along strictly on social media. To connect with both audiences, share a mix of content. Offer both something of value to the broader conversation they're engaged in that aligns with your organization's goals.
Your own thought leadership — whether in the form of white papers or quotes from your speaker — should without a doubt be part of your content mix, but don't ignore third party articles and reports. Think of it like a cocktail party: If you spend the entire night talking about yourself, you're not likely to make many new friends.
A tool like Buzzsumo can help you find engaging content to share. For example, if you're a company providing fertilization solutions to the cannabis industry, a quick search turns up articles from RXLeaf on the environmental and health impacts of cheap fertilizer use and an article from CBC on a company using fish waste as cannabis fertilizer — both valuable to the larger discussion going on around you at the event.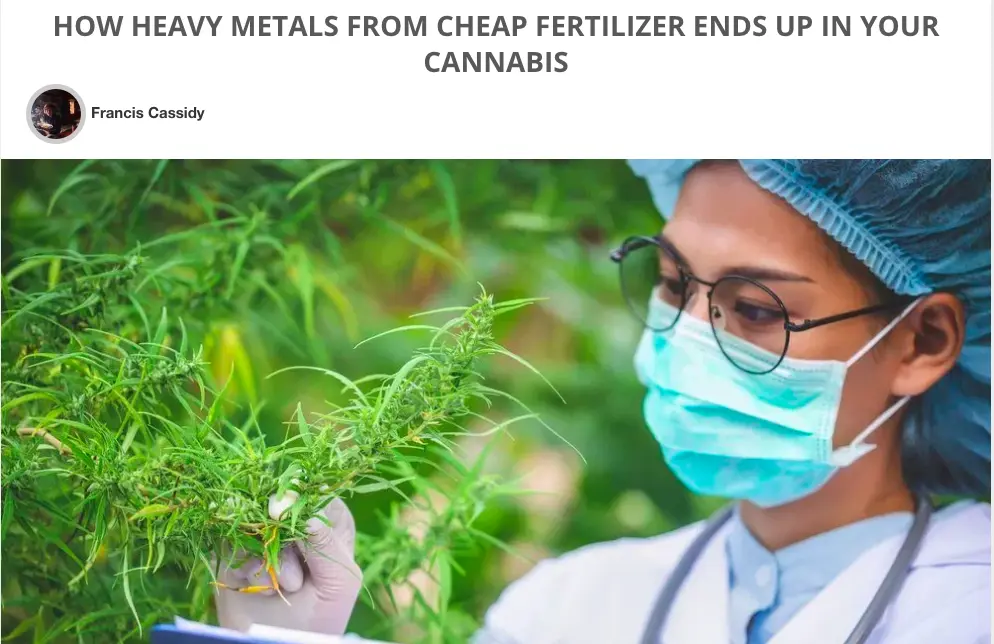 In the social media conversation around #cannabizsummit, we can see an example of this kind of content, courtesy of SC Laboratories, sharing third party content relevant to their business and the event audience.
In the #LiftCoExpo conversation, Jacqui Childs actively shared her own thought leadership in the form of videos featuring her live podcasting with guests such as Michael Zmuda, Vice President, Regulatory Affairs at Tantalus Labs.
Key Takeaway: No one makes friends just talking about themselves — bring value to the conversation by sharing a healthy mix of content.
3. Collect more content than you think you need (it will come in handy later)
You have great photos of your speaker on stage. You have great quotes from their session. It can be tempting to publish all of this content right away, in the flurry of activity during the course of the event.
Don't.
The assets you've collected continue to be valuable long after you've packed up your booth. It can be a struggle to constantly produce new, unique content to share. If you've already invested in great writing and photography at the event, there's no need to shoehorn another blog, featuring stock images, on your site just so you can keep your Twitter account live.
We can look at Tidal Royalty for an example of this kind of content. Months after the one of the Arcview Group's summit at #MJBizCon, they continued to publish insights collected from the industry leaders — including Ardent Cannabis founder Shanel Lindsay and Eden Labs CEO AC Braddock — who gathered at this event, which was just as relevant as it was on the day it was created.
Key Takeaway: Quality content outlives any single event.
4. Be part of the community
Remember what we said about the cocktail party? A good conversation is a two-way affair, and that's as true over social media as it is in person.
By doing a little research before the event, you can start to see who the influential accounts are going to be well in advance.
Dive in to see who has already posted on the hashtag. Look at other events to see who the big players have been. Comb the list of speakers and (non-competitive) sponsors and identify the big accounts.
Share and like their posts, ask them questions about the event, post interviews with articles mentioning them, and company news. A little flattery can go a long way … and likely earn you a few retweets in the process.
At #MJBizCon, some of the most active participants on the hashtag included @NCIAorg, @O2vape, @WolfOfWeedST and cannabis attorney @tom_haren, partner at @FrantzWardLLP, who appears as one of the top entities at the event.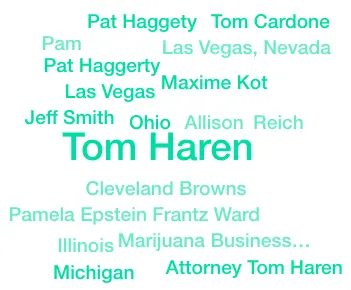 Looking at #CannaCon, large accounts including @Hippie_of_Love, @hightimesreview and @O2vape were among the most active during the course of the event.
As the event unfolds, keep your eyes on the hashtag, not just your own social media account — look to see who's engaging, asking questions, and sharing quality content. Retweet, like, comment and respond. Being social is a two way street.
Key Takeaway: Don't be a wallflower — be social. Get into the mix and interact with the event audience.
5. Your audience isn't all in the same time zone
Events attract an international crowd on social media. Looking at #CannaCon, we can see that accounts from the United States, New Zealand, Malawi, China, South Africa, Vietnam and Bolivia all got in on the action — in fact, there were a total of 29 countries involved.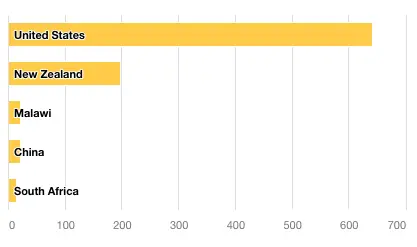 To help make sure it's your organization that gets seen first when these users are logging into Twitter, take an approach we've come to dub "the nightshift." When you schedule a post for 12 pm, also schedule a duplicate of it at 12 am. With 12 hours of content separating the two posts, you won't be too repetitive for those who saw it the first time around, and still be able to get in front of the eyes of those from another time zone.
Key Takeaway: When you schedule your Twitter posts for an event, it doesn't pay off to think local — find an international audience by letting your content work around the clock.
Adding all five of these strategies into the plan for your next event might be too ambitious for your internal team to take on all at once, but applying one or two could still make a big difference and help you stand out in the social media mix.
Try it out and let us know how you did — you can find us at @djournalgroup.
https://digitaljournalgroup.com/wp-content/uploads/2020/03/DXJ-Feature-Image-.png
675
1200
Chris
https://digitaljournalgroup.com/wp-content/uploads/2019/11/Digital-Journal-Group-logo-300x138.png
Chris
2020-03-06 18:16:10
2020-03-06 18:18:11
5 social media marketing tips for your next cannabis event